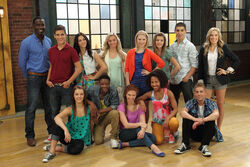 The Next Step is a Canadian teen drama series shot in a reality television Style, which consists of 26 episodes. The series focuses on a group of dancers who attend The Next Step Dance Studio as they strive to win a series of dance competitions.
It began airing on Family Channel in March 2013. Family Channel announced on Thursday, April 11, 2013 on their youtube channel that the show will be picked up for a second and third season. Season 2 will premier in September 2013 . And, Season 3 premiering in March 2014.
-SPOILER THEY ALL DIE
Ad blocker interference detected!
Wikia is a free-to-use site that makes money from advertising. We have a modified experience for viewers using ad blockers

Wikia is not accessible if you've made further modifications. Remove the custom ad blocker rule(s) and the page will load as expected.